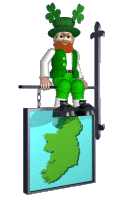 The local Village - Rosscarbery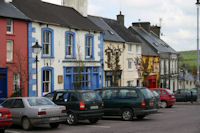 Overview:
Rosscarbery is a small historic town set in picturesque surroundings overlooking a sandy inlet of the rugged West Cork coastline. The town grew up around a monastery which was established by St. Fachtna in the latter half of the 6th Century. It is a peaceful place with an attractive Square and nicely decorated buildings with traditional shop fronts.
Today there are both upmarket and traditional Restaurants and Pubs with the best 'ceoil, caint agus craic' (gaelic for 'music, conversation and fun') in all of Ireland.
For those who want to relax, the beautiful Warren strand offers safe bathing and golden sands, the more energetic may enjoy the adjacent Pitch & Putt (9-par Golf) Course and Tennis Courts.
For the angler, Rosscarbery offers estuary, rock, deep sea, and fresh water fishing - with bait in plentiful supply.
The lagoon and estuary are great favourites with bird watchers as large numbers of duck, waders, sea and migratory birds are to be seen.
For the archeologist, there are numerous megalithic tombs, stone circles, and standing stones in the area - Drombeg Stone Circle being the most famous 'mini stonehenge'.
Discovering the hidden treasures of this unspoilt area is an enriching experience. There are many reasons why Ross is not quiet like any other place - it begins with the people. All this - coupled with first class accommodation, restaurants, pubs in congenial surroundings make Rosscarbery a unique Holiday Centre/ Vacation Center.
Dont just take our word for it as the village has a dedicated website where you can get a lot more detail on things to do, but the following is a brief list for starters:
Attractions Found Nearby:
| | |
| --- | --- |
| Golf | Horse Riding |
| Angling | Pitch & Putt |
| Tennis Court | Bicycle Hire |
| Playground | Blue Flag Beaches |
| Leisure Centre | Cinema |
| Country /Coastal & Forest Walks | Traditional Irish Pub Music |
| Restaurants | Water Sports |
| Local Guided Tours Arranged | Bird Watching |
History (based on Wikipedia):
Rosscarbery (Anciently Ros Ailithir , later Ros Ó gCairbre or Ros Ó Cairbre in Irish, and later still "Ross Carberry" incorrectly in Google Maps) is a village in County Cork, Ireland. It came into existence sometime in the sixth century when St. Fachtna founded the School of Ross, in which St. Brendan the Navigator (the earlier Colombus) was supposed to have started his studies. The village still has a beautiful historic cathedral named after Rosscarbery's patron saint: St. Fachtna's Cathedral. It is now Church of Ireland (Anglican) and is located in the centre of the village, and its spire has inspired many photographs. The Roman Catholic Church, built in the 19th Century, is located at the mouth of the bay, both are picturesque and historic and worth visiting even if just for the architecture alone. If you are of a slightly more pagan disposition there are four megalithic tombs in the locality dating back to 3000BC.
It is the birthplace of one of the greatest leaders of the Irish War of Independence, Tom Barry, and one of the leaders of the Irish Fenian movement, Jeremiah O'Donovan Rossa . There is a house which was putatively his. There is some dispute as to whether Tom Barry was born in the town. Meda Ryan's biography - the standard reference text on him - states that he was born in Kerry to Cork parents. What is not in dispute is that he spent his formative years in Rosscarbery. Nearby, 4 miles away at Sams Cross, is the birth place of Michael Collins another great Irish hero from those troubled times.
The village is located along the N71 road through West Cork. Clonakilty is nearby, further along the road to Cork city, a distance of 40 miles. The village is situated on a shallow estuary, which opens onto Rosscarbery Bay, and is a popular tourist destination in the summertime, being in proximity to at least three fine beaches. The nearest of these, the "Warren Beach", is about a mile from the village, and is designated a blue flag beach.
Next Page: Activities & Attractions in West Cork